Cheap Ways I am Decorating my Little Trees
Thursday, December 11, 2008

My apartment has never had room for a tree - so I have a collection of little trees from 12" to 18" to 3 ft. to put around the place. They look nice grouped.

This year I found some ingenious ways to decorate them.
I used hair clips that had hearts and red buttons affixed to them (probably from an old photo shoot, as I inherited them from a designer friend of mine). I put the bigger ones on the 18" tree and the smaller ones on the 12" tree - and the green fuzziness of the 18" tree and the silver fringe of the 12" tree hid the hair pins quite nicely - Voila - ornaments and in scale!
Also had furry hair elastics in red/blue/white, which I twisted into figure 8's and put on the branches of the green tree.
On the green tree - I also used a white hair bow for the top - and draped a purple stretchy bead bracelet around the top branches.
On the 18" wooden tree which has 2 sides which fit together - I draped stretchy bead bracelets (also from the designer trove) across the branches - which ended up being quite in scale, too - I put a star ornament upside down on the top with some putty stuff - and draped other bracelets and even an old beaded headband on the tree.
Final touch - I took wine charms I could never figure out what to do with and hung them on the wooden candle holders of the small 18" tree to try to disguise them, as I don't have candles around. They are wine-themed - little cheese/corkscrew/grapes, etc. - but they are also beaded and the wine theme isn't obvious unless you look very closely!
I also filled out the 36" tree with a set of 99 cent santa boot ornaments I got a few years ago and never used, out off the Xmas box -
Used the black cardboard top of the tube my spirits mfg sent me the wrapping paper in, as a base for the silver lurex tree - works and looks better than the old one -
Used the Maker's Mark ribbon to make red bows for some of my regular figurines and trees - as it's nice ribbon but it says Maker's Mark all over it - which luckily can't be noticed from afar.
That and the pine boughs/branches which I picked up at the garden center - gratis. And the poinsettias my husband bought me - and the one string of white lights. It does look Xmasy if I do say so myself!
And somehow it's all the more gratifying because of the thrifty ingenuity! Could you find some baubles and beads around the house to add to your tree this year?
0 Comments
Decorating My Tree on the Cheap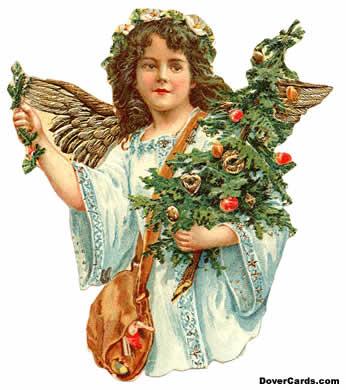 Ingenuity helps me trim my little apt. trees on the cheap!